Welcome to Dr. Rabb' s site
| | | | |
| --- | --- | --- | --- |
| "No Colostomy Bag for Me, Thank You!" | | | |
by Francis Taylor, Sentinel Staff Writer
Aug 23, 2007 at 10:27 AM
Carolyn is an energetic, attractive, 50-something Black woman with two beautiful daughters, and one granddaughter. She enjoys a successful career as an administrator with the Los Angeles Unified School District and spends much of her free time during the off-school summer months working in her garden.

She is also a living example of how one may turn their back on conventional medical treatment, take a holistic, alternative approach to treatment and healing, and overcome life-threatening colon cancer.

"I was diagnosed with colon cancer about four years ago." Carolyn explained. "The diagnosis came at a time in my life when I was under extreme personal pressure as well as work-related stress. After some lingering stomach discomfort I was eventually hospitalized when blood was present when I eliminated. Exhaustive tests revealed the colon cancer."

After agreeing to the surgical procedure to remove the cancerous tissue, Carolyn reluctantly followed her advice and agreed to undergo chemo/radiation therapy. She later concluded that her doctor's treatment recommendations were doing little to heal her cancerous condition and their real interest was in making her well enough to endure the costly surgery to remove her colon and attach a lifelong colostomy bag.

"Eight doctors examined me following the surgery and it was very unpleasant as they peered into my most private area." Carolyn painfully described. "Even though none of them observed any abnormalities, they offered no options for me other than the complete removal of my colon."

"When they said that they could not put it back if they confirmed that it was ok after it had been removed," Carolyn said. "I decided to pursue other options and that is when I was introduced to Dr. Nathan Rabb and his Holistic Health Center in Inglewood."

"Carolyn's story is all-to-familiar." Dr. Rabb said. "It is not uncommon for many of our clients to come to our office only when, for whatever reason, they determine that conventional medical procedures are not curing anything."

"After assessing my situation," Carolyn described, "Dr. Rabb placed me on a full body, incurable cleanse, a rigorous month-long treatment regimen which introduces a whole-body approach to cleansing."

In addition to continuing with a less intense cleansing program, Carolyn consumed a 100 percent vegetarian raw food diet, including vegetables, fruits, raw nuts and seeds, and soaked and sprouted beans and grains. The only liquids she was advised to consume were herbal teas, distilled water, fruit and vegetable juices, Tahitian Noni Juice, aloe vera juice and monotonic silver.

Animal flesh, eggs, milk or milk products, cooked foods, and alcohol, were also eliminated from her diet. In addition, Dr. Rabb provided Carolyn with other detoxification products, immune system boosters, and other nutritional supplements.

Two years after conventional doctors wanted to remove her colon, Carolyn is now cancer-free and attributes her healing to the information and knowledge she gleaned from Dr. Rabb and her own commitment and adherence to a more-healthy pattern of eating, drinking, and cleansing.

"We all are free to make choices." Carolyn said. "I believe that I am truly blessed and am thankful that I was able to adhere to a non-conventional approach to my own healing that made it unnecessary for me to undergo major colon surgery."

Dr. Rabb is cautious about making any claims related to healing. Frankly he only uses the word to explain that he cannot heal anything. What he does say however, is that if we provide our bodies with the proper nutrients and avoid eating foods and drinking beverages that are harmful, the body can heal itself.

Carolyn still adheres to a vegetarian diet and drinks at least 64 ounces of high-content alkaline water every day. She has recently allowed herself to over-indulge in foods with high sugar levels and is embarking on a plan to eliminate sugar altogether.

Most importantly, during her last medical examination, she was found to be cancer free and her doctor said. "I don't know what you are doing bur, keep on doing it."

Dr. Rabb explained the value of a body with high alkaline levels.

"People who are suffering from illness and disease," he explained, "have high acid levels. Acid levels are enhanced with the ingestion of meat, dairy products, sugar and other products that are not live foods that deplete the oxygen levels in our bodies." He added.

"When you get the correct nutrients, eat the proper foods, and drink the correct amount of high-content alkaline water on a regular basis, your body is considerably less likely to compromise its immune system and therefore you create an environment that is less likely to develop disease." He concluded.

The results Carolyn achieved may be unique to her and sharing her story is not intended to encourage anyone to cancel their doctor's appointments and tell their MD to 'take a hike.'

She wanted to share her story because she knows that some simple changes in her eating habits saved her life and if she is able to encourage another person to do the same, she will have returned God's blessing.
Start Today! Down Load Programs!
Or
Call 310-419-4372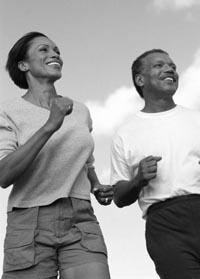 You have to start some where
Email Any Suggestions Jst2jiggy@hotmail.com